A Storybook Ending...
Website leads couple to final chapter in search for second home...
The day Bill and Marianne Burke,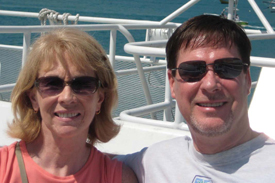 residents of central Ohio, decided to purchase a second home for vacation and investment purposes, they took the first step toward what many consider to be a real estate nightmare.
"The idea of purchasing a second property began as a what-if and without an idea of where exactly we wanted to go," said Bill. "We were interested in the beauty and lifestyle of Hilton Head, South Carolina, but knew we also liked Florida. Then we had to establish a budget and knew we would not go above it."
Their journey began with an Internet search engine, which led directly to www.RetiringToFlorida.com, a website created by Media Services to guide people to the many beautiful locations throughout Florida.
"This website stood out because of the easy navigation," Bill explained. "It provided insight into several cities throughout the state. At this point we were still exploring and not partial to one particular area."
The Burkes next had to decide whether to leave their contact information on the secured website.
"We weren't leery about leaving our contact information because it didn't require a lot," he pointed out. "If it had, we would have backed off."
Their instincts were right because shortly thereafter they were matched with Maria Norton, broker and owner of Norton Real Estate in southwest Florida.
"I provide personal consultation and help narrow down the location that works best for the client," Maria explained. "Then I refer them to a realtor from my network who covers the entire state of Florida. I handpick all of the agents because I match the client with the realtors."
The match between the Burkes and Barbara Hines of Beachwood Properties, a recipient of the 5 Star Award from Gulf Shore Life magazine for seven consecutive years, was love at first communication.
According to Bill, "Maria was extremely good in research and diagnostics because she eventually led us to Naples. She put us in contact with Barbara and allowed her to do her thing. Making a connection with a realtor is vitally important."
"Barbara Hines is the world's greatest realtor," he added. "She allowed us to look at a wide range of homes. All around, it was an exceptionally good experience because we were empowered as buyers."
The admiration, in this case, wasn't one-sided. Barbara, whose experience throughout the process paralleled that of the Burkes, described their relationship as "a great chain of events."
By utilizing www.RetiringToFlorida.com, the Burkes were able to narrow the entire Southeast region of the United States to one state, and, through Maria's expertise and trusty network of agents, they were able to narrow the location to one city that matched their budget and needs – Naples, Florida.
"I would recommend this process because for us it was perfect. It put us in control. The website was a really good information resource," Bill said. "Coming from Ohio, it gave us a great insight into the South, its cities and its properties."
For Internet Marketing and Buyer Leads e-mail [email protected] or call 843-881-1481 ext. 21.
by Stacy E. Domingo